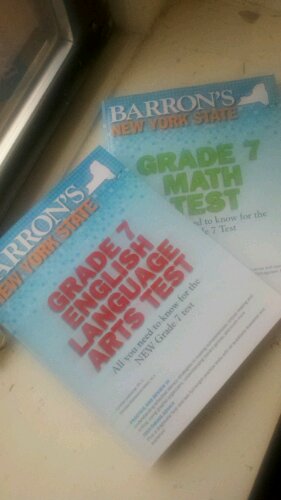 I am suddenly climbing up out of my seasonal slough of despond to ramp up my participation in my daughter's education.  I'm sure that's the last thing she wants since the way it played out today is my purchase of the Barron's test prep books for the New York State Grade 7 English Language Arts Test and Grade 7 Math Test.
As a member of the "creative class" I have never set much store in standardized tests.  In fact I would go so far as to say they are B*% S#@#. However, my daughter attends public school and thrilled as we were by the idea of our child attending the same school grade 6 through grade 12.  We have decided that we would like her to go somewhere else for high school.  Personally I'm still very happy with her choice of an all-girls middle school.  But, now that she is firmly entrenched in her technology career choice, I want her to expand her horizons beyond Brooklyn, as the lyrics in the theme song for the Patty Duke Show say:
"But Patty's only seen the sights a girl can see from Brooklyn Heights…"
I spent two hours today talking to another mom in a coffee shop in Brooklyn Heights.
Our girls are at the same school.  We have the same doubts about our school and the same hopes for our girls.  Her kid is a year ahead of mine, in the 8th grade.  So they are done with the process, the schools have been visited, the tests have been taken, the forms have been filled out, the first choice/dream schools have been chosen and fingers are crossed–and have been for months.  Her kid is 13-years-old!
I am listening to this woman talk and thinking to myself, "Oh S#*+ I need to get a tutor because I can't risk my kid blowing off the stupid standardized random core knowledge test because next fall she may see and want to apply to a high school that weighs heavily the difference between a 3 and a 4 on the stupid standardized test.
This is like Dance Moms only about public school.  If I don't do whatever–my daughter will not be a the top of the pyramid of some school administrator whose existence I am as yet unaware of.

Can I just say how much I hate this system!